Been procrastinating this for too long so here goes. This is where I will be dropping anything and everything, even remotely, synth related stuff. I build and (occasionally) play electronic instruments. I think that ratio is mostly due to being way better at building than playing. Oh and the fact that I never seem to get done.
Originally I think the idea was that I was gonna post about (my) music here, but since that doesn't seem to happen I'll be writing about all those gizmos I never play.
I've been building and repairing/reconditioning synthesizers (eurorack modules mostly) for about a year and a half by now. Apart from a couple I've built all modules you can see here above.
I still consider myself very much a newb. I do have some background in electronics from school (more decades ago than I care to confess) but I try to learn as much as I can as I go.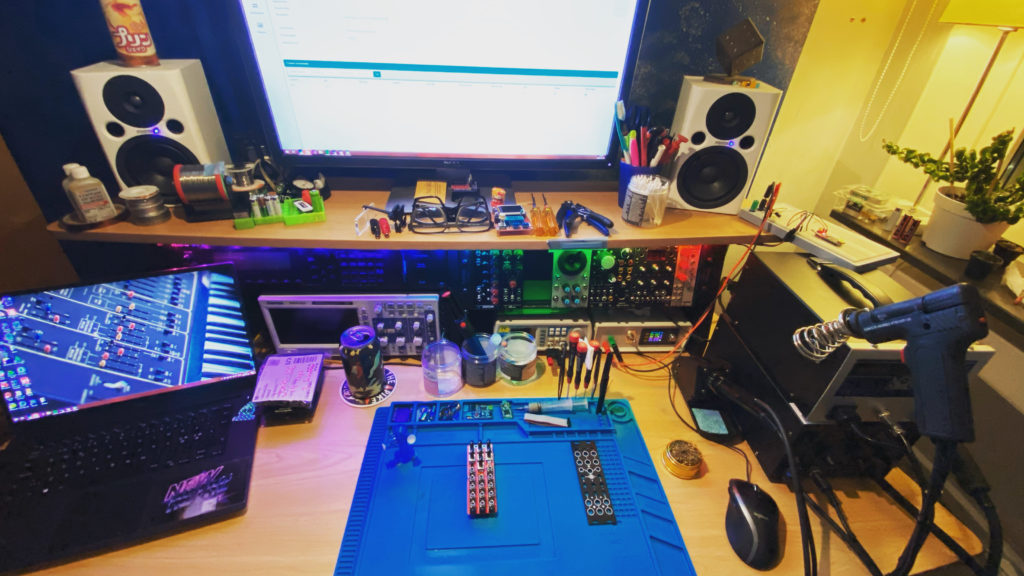 To be honest I probably won't be raining posts here and most will likely be stuff that I want to keep some sort of record of for later. I'm really too picky when it comes to stuff I do and I usually want it too be at a level of quality I don't live up to (ever heard that before?). So, if you're really into #synthporn or just generally goofy tech stuff go check out my Insta feed.
Why should you pay any attention to anything I write? Not sure, really. There are way more skilled guys and gals putting out tons of content on Insta, Facebook, Youtube and what not. Especially when it comes to patching and sound design and playing and yes, building synths. But, nonetheless… I'll post my stuff there and maybe force my kids to check out what their old man wrote all those years ago in some distant future. But hey! Nothing would make me happier than if you happen find something useful here. And if you do drop me a line 🙂
Created under CC BY-NC-SA 4.0.